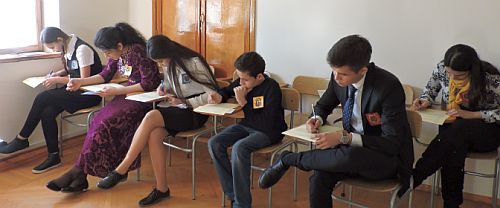 American Councils in Turkmenistan provides promising Turkmenistan citizens with the knowledge and skills necessary to successfully enter U.S. colleges and universities by increasing students' competitiveness through rigorous preparation. Participants will focus on TOEFL and SAT test preparation, Academic Reading and Writing, and training in other study skills necessary for success in applying to U.S. colleges and universities.
Prep4Success invites potential candidates to participate in a 5 month (4 days a week) week day preparatory course from October 4, 2017 to February 14, 2018.
Eligible candidates:
• Graduate of secondary school
• No Bachelor's Degree yet
• Not enrolled in a University either in Turkmenistan or another country
• Intermediate/Advanced level of English
• Motivated toward academic success and study at U.S. colleges and universities
• Ready for challenges!
– Common-Application
– P4S Fall 2017 Session Advertisement
– P4S Fall 2017 Application