EducationUSA Turkmenistan Opportunity Funds Alumna, Zarina Davletova graduated from Garden City Community College in Kansas and attended virtual graduation of the 100th Commencement Ceremony on May 9, 2020.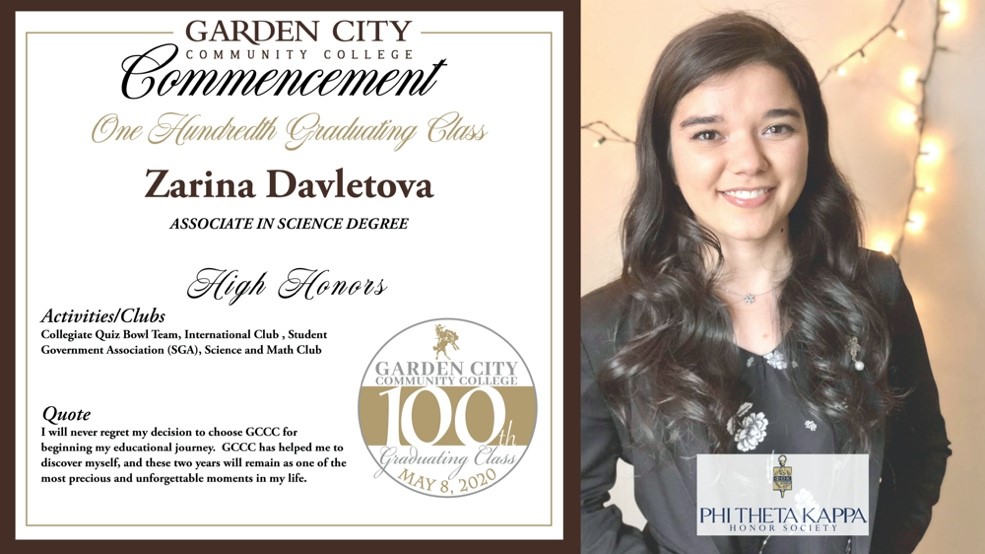 Furthermore, Zarina was chosen as a commencement speaker and also was announced as an Outstanding Female Graduate of the Class of 2020 for her academic excellence and extraordinary commitment to community service.
She received the Associate of Science degree and completed the program with 4.0 GPA. During her academic studies, Zarina has demonstrated her leadership by becoming a member of many student club organizations and served as the Residential Life Adviser, Math and Economics Tutor in the College Comprehensive Learning Center.
In addition, she has been named PTK All-Kansas Academic team along with the 50 other Scholars in the state too.
Currently, Zarina is transferring to the Mississippi State University to pursue her Bachelor's degree in Math and Economics major
To view virtual commencement ceremony and Zarina's commencement speech, please follow the link: https://youtu.be/b_vt6oB12wY