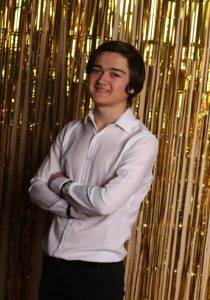 #StudentSpotlight. "I've received necessary skills thanks to
EducationUSA College Preparatory Program & Research PaperWriting component. It helped me in getting a job as a tutor and a marketer at my school."
Meet Murad Hazhibaev – Opportunity Funds recipient and outstanding EducationUSA college-prep program alumni from Turkmenistan. Murad is an ambitious Business major student and a recipient of full-tuition Pillars Scholarship award from Waldorf University (IA). Murad's strong dedication and enthusiasm is shown through his active involvement in volunteering and multiple student clubs, such as Warriors Writing Club. Murad's outstanding academic performance helped him to get into Honors Leadership program, and included into Dean's List at Waldorf University within his freshman year. Moreover, his active involvement as a Telemarketer for the Alumni Relations Phone-a-thon Room at Waldorf helped to contribute a raise of $20,000 for the Waldorf Lutheran College Foundation. Recently, Murad has connected with dozens of students from Turkmenistan through the EducationUSA Scholar Talk virtual series, and shared his experience of financing education in the US. This motivated and inspired many prospective students to apply and go to college in the US. Keep up an active work and commitment to academics and community, Murad.
Instagram: muradhazhibayev