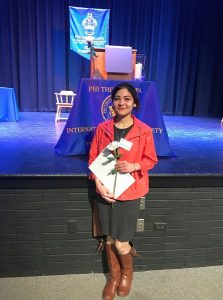 Bagul Mammedova, EdUSA cohort alumna and Opportunity Program recipient, who is currently a freshman at Jamestown Community College, NY received summer internship offer at the International Institute of Buffalo, NY. Bagul will be begin her internship at the New American Integration Department as a Project Research and Development Intern from June to September. 2020. The Institute is an organization that assists immigrants and refugees coming to the U.S. by welcoming, helping with the settlement, and employment process.
It has a partnership with multiple organizations and national agencies such as the United Nations, The U.S. Department of State, USCRI, New American Economy and many more. The Internship is unpaid, and Bagul will be part of a team that organizes new cultural events and programs in Western New York (WNY). Bagul feels very excited and "honored to be a part of the internship program because of the Institute's mission goals, which is to integrate foreigners in WNY and enrich the community with new cultures".
As part of her internship duty, she will be "assisting to organize and prepare for the next Model UN, creating and developing new events, and helping to improve English language programs for refugees and immigrants". Bagul believes the internship experience will provide an enormous opportunity for the hands-on that closely aligns with her college major and future profession in Global Studies.